View Job
Field Service Engineer
ENSCO Inc. | Chambersburg PA 17201 USA | Full Time | Posted: 12/05/2023
Job Descriptiontop
ENSCO s Applied Technology and Engineering (ATE) Division designs, develops and manufactures precision, high speed, real-time track inspection systems for the national and international railway market. We are seeking a skilled Field Service Engineer to join our service group, to provide installation, test, debug and repair of complex railway-vehicle-based electro-mechanical inertial and optical based data acquisition systems.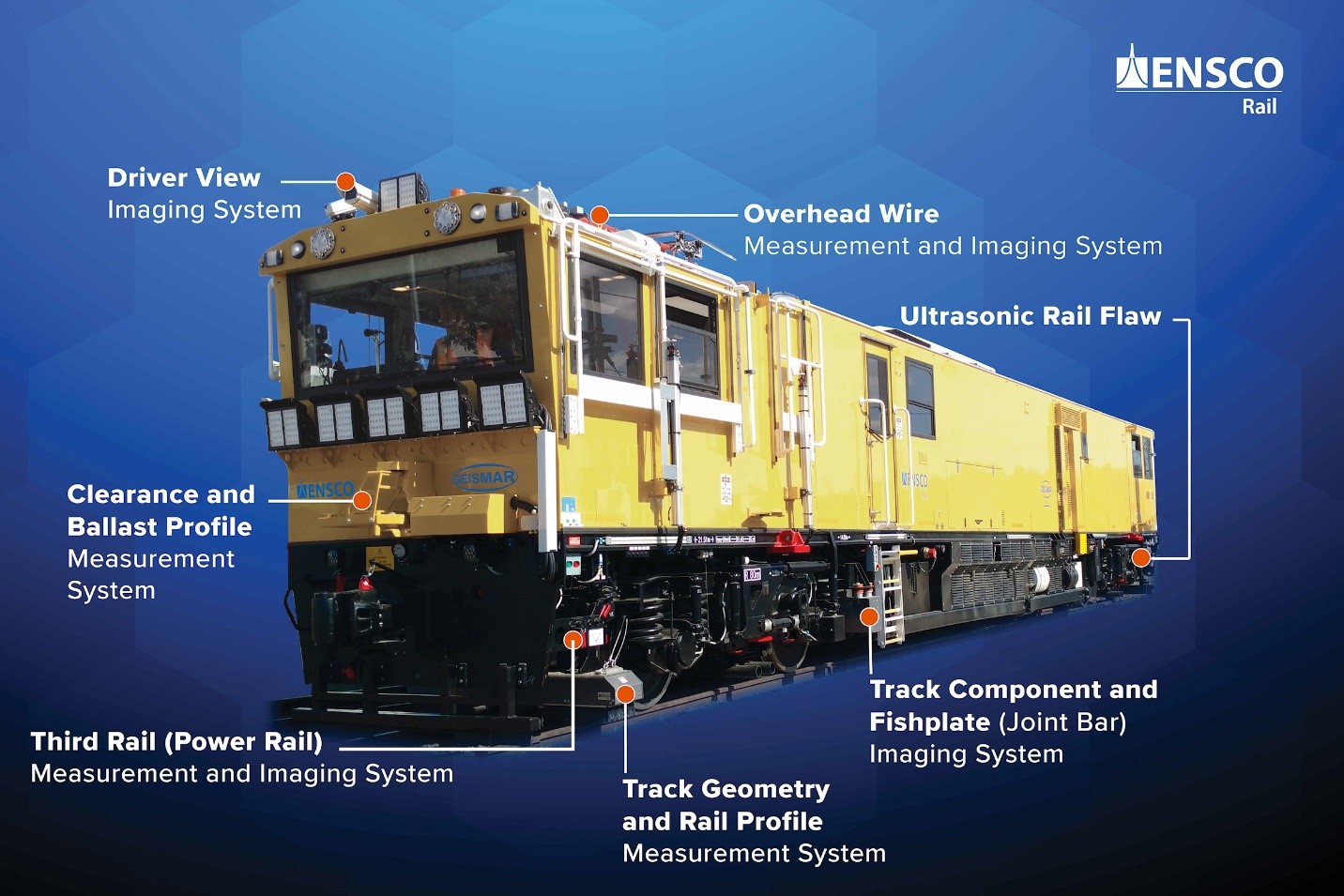 Responsibilities will include, but are not limited to:
Field service, troubleshooting, maintenance and repair of equipment on railway vehicles at various domestic and international customer sites, as well as in our facilities.
Installation, calibration and testing of track inspection systems on railway vehicles.
Assembly, test, debug and repair of electronic circuit boards, cables, component chassis wiring, sensor assemblies and associated computer equipment.
Support design engineers in the assembly, test and debug of new products
Job Requirementstop
Qualifications Desired
Installing and configuring local area network (LAN), wireless (Wi-Fi) systems and Network Switches.
Installing and configuring application software and operating systems, including but not limited to: Windows 7, 10, Linux, Qnx
Cable fabrication and management, including Coax, Cat5 and milspec connectors.
Experience in railroad testing or inspections.
Experience with optical and inertial sensors.
Experience with sensors and data acquisition systems
#LI-JV1
Qualifications Required (Skills)
Bachelor s degree with 2 (two) years of experience including interships or an Associates degree with 4 (four) years experience in Mechatronics, Electronics, Electrical Engineering, Mechanical Engineering,
Understanding and troubleshooting of complex software-electro-mechanical systems, including both software and hardware functionality and interactions between the two.
Working independently at customer sites investigating, diagnosing, and resolving system problems.
Electro-Mechanical system level assembly, testing, troubleshooting and repair.
Performing data analysis to troubleshoot electro-mechanical data acquisition systems.
Testing, installing as well as remote and onsite servicing systems, containing sophisticated sub-assemblies including lasers, optics, data acquisition electronics, mechatronics, and high-performance computing hardware and software.
Effectively communicate with customers by telephone and in person to diagnose and resolve system problems.
Proficiency reading and interpreting cable diagrams, cable assembly drawings, schematics and wiring diagrams.
Effectively use multi-meters, oscilloscopes, function generators and general laboratory test equipment for testing and troubleshooting equipment to the component level.
Proficiency with hand tools for assembly, installation, maintenance and repair of mechanical systems and components.
Able to climb a 15 foot high ladder to gain access to railroad vehicles.
Ability to work in tight spots: on, under and around rail vehicles
Willingness to work 12 hour shifts as necessary when on field assignments.
Work in inclement weather as needed.
Must be able to lift 50 pound objects and carry them a distance of 150 feet.
Able to travel domestically and internationally up to 50% of the time.
Wear Personal Protective Equipment (PPE) including hardhat, safety glasses, safety boots, protective vest and hearing protection.
Division Description
At ENSCO, we've been at the forefront of engineering, science, and advanced technology solutions for over five decades, continually pushing the boundaries of innovation. We're not just a company; we're a dynamic force shaping the future of governments and private industries worldwide.
ENSCO's Rail Division stands out on the global stage as a leader in railway infrastructure inspection technology. Our products and services have reached a dozen countries across five continents, playing a pivotal role in preventing train derailments; safeguarding human lives and the environment; and supporting the sustainment of economies.
What sets us apart is our commitment to pioneering technology across various exciting domains:
Sensor Systems Integration: We utilize a diverse range of sensors: from inertial and positioning (GPS/RFID) to laser scanners, imaging (line scan, area scan, thermal), ultrasonic, ground-penetrating radar, and LIDAR. We re masters at sensor integration.
Autonomous Sensor Deployment: Imagine sensors, positioning systems, artificial intelligence capabilities and wireless communications on active rail cars, all autonomously inspecting railways. It's not science fiction; it's what we do.
Cutting-Edge Machine Vision: We're in the business of AI and data science. Developing machine vision algorithms to detect conditions that were traditionally inspected by humans. We're making rail inspections smarter and more efficient.
Enterprise Data Management and Software as a Service: Our data management systems are not just sophisticated; they're, enabling us to display, report, and conduct big data analytics with ease. We automate and support data-driven decision making.
Join our team and be part of a stable and growing company that's making a tangible impact on some of the world's most challenging transportation problems. At ENSCO, we're not just building the future; we're defining it. Explore more about us at ENSCO's website (www.ensco.com) and be part of our exciting journey.
Strength in Diversity
ENSCO, Inc. and its wholly owned U.S. subsidiaries are equal opportunity/affirmative action employers, committed to diversity in the workplace. All qualified applicants will receive consideration for employment without regard to race, color, religion, sex, gender identity, sexual orientation, national origin, disability, or protected veteran status, or any other protected characteristic under state or local law.
Job Detailstop
| | |
| --- | --- |
| Location | Chambersburg, PA, 17201, United States |
| Categories | Logistics/Transportation |
Location Maptop
Contact Informationtop
| | |
| --- | --- |
| Contact Name | - |
| How to apply | Employer provided a link where your application will be accepted. Click on the link below and follow instructions. |
| Apply | Click Here (apply to job) |
| Job Code | 3423294 |